Counterstrike is the first expansion pack. It is mostly a mission pack which consisted of a few new campaign missions you could play in any order you'd like, new multiplayer maps and the (im)famous ant missions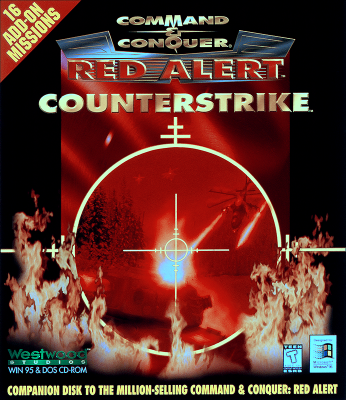 Region: North America | Europe
Developers
Westwood Studios
Intelligent Games (MP maps)
Publisher
Virgin Interactive Entertainment (1997 - 1998)
Electronic Arts (1998 - Present)
Release date
April 3rd 1997
Platforms

DOS and Windows.
For the PlayStation version see Retaliation
What it includes
Over 100 new multiplayer maps
7 new sound tracks
16 new singleplayer missions
It Came From Red Alert!
It Came From Red Alert!
Morse code was hidden through out the Red Alert Manual. This Morse code depicted battles against giant ants. The Counterstrike manual also contains Morse code, this Morse code however were commands to the user.
Counterstrike keeping the tradition from The Covert Operations contained a secret campaign. Unlike funpark from Covert Ops it did not require a start up parameter, but a key combination.
To play the ant missions be on the main menu, hold alt and click on the speaker in the top right.